Fiji celebrates first Medal Parade in Golan Heights
May 09, 2014 - The First Battalion Fiji Infantry Regiment conducted its Medals Parade on 09 May, 2014 in Camp Faouar, which was reviewed by the Force Commander. The DFC, CMS, COS and other UNDOF senior military and civilian staff were also in attendance. On the fine sunny spring day, the three detachments on parade proudly saluted the marching on of the 1st Battalion Colors, marking 71 years of its first deployment to the Solomon Islands in WWII. During the parade, the FC presented medals to specially selected medal recipients including the the front rank of the formation whilst the DFC and COS presented medals to the centre and rear ranks respectively.
Whist addressing the troops, the FC praised them for their loyalty, dedication and commitment in the Northern Area of Operations. "Since your induction, I have closely monitored the activities of the Battalion in UNDOF and I am proud to say that FIJIBATT have excelled in the role as loyal, dedicated and committed Peacekeepers in the Northern Area of Operations," he said. "Operationally FIJIBATT has performed with distinction. They have reopened and occupied Position 32A and taken over Position 62. FIJIBATT is deployed in 15 Positions and one Observation Post to give protection to UNTSO observers. This is the maximum that any Battalion has occupied since the inception of UNDOF 40 years ago," he further added.
He was later presented with a token of appreciation; a Fijian war club that was carried by the lead warrior who led the traditional Fijian war cry performance before the end of the ceremony.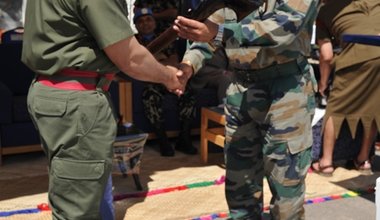 Commanding Officer Fiji Battalion, LtCol S. T. Qiliho presents the Fijian War Club to the Force Commander, LtGen I.S. Singha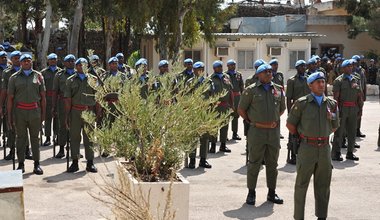 Members of No. 1 detachment led by Maj Kumar stand at ease during the parade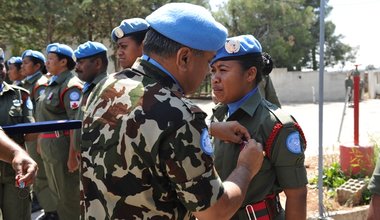 Deputy Force Commander, Brig Gen Hari Basnet presents the UNDOF medal to LCpl Lomatanoa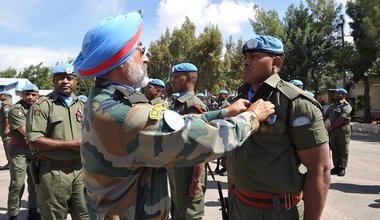 Pte Koyamaibole receives the UNDOF medal from the FC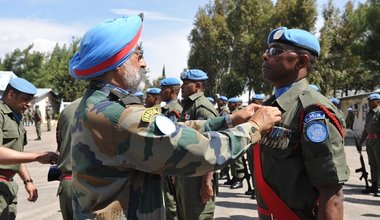 BMR 2IC Sgt Tamani adds another medal to his collection after he received his medal from FC