Irish Counter Improvised Explosive Device Equipment arrives in Camp Faouar
15 July, 2014 - The deployment of an Irish Counter Improvised Explosive Device (CIED) team to UNDOF marks a significant development in Force Protection measures available to the Force Commander and to UNDOF and provides UNDOF with the capability to preserve Freedom of Movement (FoM) of UNDOF personnel in their Area of Operations. Furthermore, it assists UNDOF in maintaining the security of UN posts and positions by conducting ESSC (Explosive Specialist Search & Clearance) and IED disposal operations as directed.
The C-IED team is made up of two elements; an ESSC team and an IEDD (Improvised Explosive Device Disposal) team. In a high threat environment these assets are normally used jointly and are mutually supportive of one another. The ESSC team has the ability to detect and isolate a device before the IEDD team conducts the render safe procedure. The C-IED team has the ability to conduct route or area clearances and disposal of IEDs or unexploded ordnance through a series of internationally recognised TTPs.
The C-IED team transport consists of specially designed armoured vehicles which carry the equipment required by the C-IED team. The C-IED team's equipment includes explosive detectors, protective suits; anti-personnel mine flail and metal detectors. In addition, the team has radio controlled vehicles (RCVs) which are capable of rendering safe IEDs at a remote distance from friendly forces.
The Irish Defence Forces have been involved in Engineer Specialist Search and Clearance (ESSC) and Explosive Ordnance Disposal (EOD) since the early 1970's in response to the emerging paramilitary threat in the Republic of Ireland. As time progressed, tactics, techniques and procedures (TTPs) were amended and re-designed to suit the needs of the Irish Defence Forces both at home and abroad until it was recognised internationally that Ireland were leaders in this field.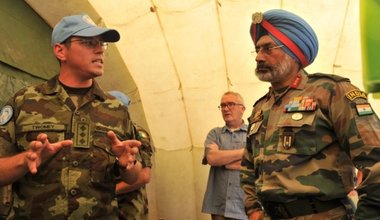 Capt Fergus Twomey (FRC) briefs the FC on FRC CIED search equipment.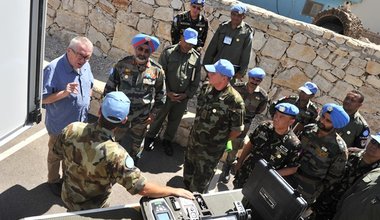 FC is briefed on FRC CIED equipment with Chief of Mission Support, Mr Bernie Lee and OC FRC Lt Col Paul Kennedy.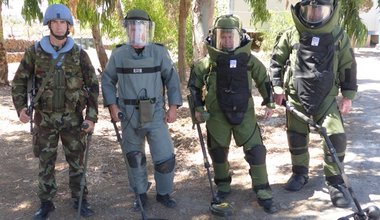 Some of the protective clothing and equipment on display during the recent CIED equipment display for the FC.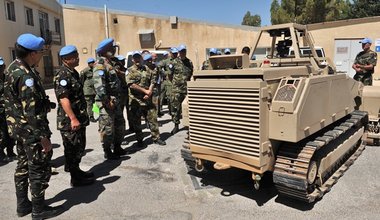 FC receives a brief on the 'Doking MV4 Mine Flail'.