USG Peacekeeping Operations, Mr Herve Ladsous visits UNDOF
23 June, 2014 - The Under-Secretary General Peacekeeping Operations, Mr Herve Ladsous visited UNDOF during the period 22-23 June. He was received by the Head of Mission and Force Commander, Lt Gen Iqbal Singh Singha before being accorded with a guard of honor by soldiers of FIJIBATT. During his visit, Mr Ladsous interacted with the troop contributing countries (TCCs) as well as UNDOF's civilian staff. He also visited UN positions in the area of operation.
In addressing the Contingents, the international staff, and the local staff, Mr Ladsous expressed his gratitude for their competency, commitment and professionalism in the current challenging situation. He praised Lt Gen Singha for his vision and leadership and further expressed his admiration for the TCCs that gallantly responded to the call of the UN in UNDOF's time of need.
He reassured the UNDOF peacekeepers that the UN Security Council is unanimous in preserving peace on the Golan and would ensure that the mission is provided with the means and sources to maximize the safety and security of its personnel so that the mission will continue to operate.
In recognition of their efforts and hard work, UNDOF military and civilian "Peacekeepers of the Month" were presented with certificates from Mr Ladsous.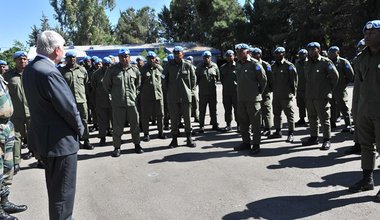 USG Mr Herve Ladsous has a word with Fijian Peacekeepers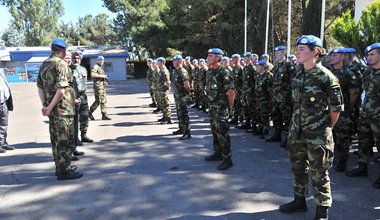 Mr Ladsous meet with IRECON
Mr Ladsous congratulates Nepalese soldiers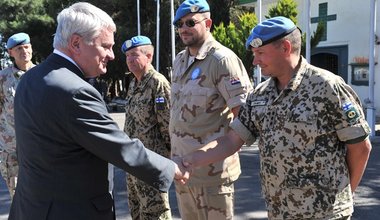 Mr Ladsous meets with OGG personnel