MILAD, Lt Gen Maqsood Ahmed visits UNDOF
December 27, 2013 - The head of the Office of Military Affairs and current Military Adviser Lt Gen Maqsood Ahmed visited UNDOF from the period 19 – 21 December, 2013. He was welcomed with a guard of honor by the FIJIBATT as he entered the gates of Camp Faouar and met the acquaintances of UNDOF FC, Lt Gen Iqbal S. Singha and UNDOF DFC, Brig Gen Hari B. Basnet.
He was briefed on the situation in the AO and was escorted to UNDOF OP's and POS's to see for himself firsthand the situation on the ground. Following his visit Lt Gen Ahmed said that he appreciated the effort and hard work being put by UNDOF to carry out the UNDOF mandate considering the situation on the ground.
The UNDOF "Peacekeepers of the Month" were honored to be presented with certificates in recognition for their hard work and commitment during the month by Lt Gen Ahmed.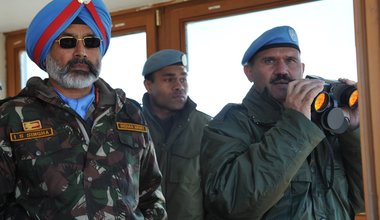 LtGen M. Ahmed and Lt Gen I.S. Singha
observe from an OP
Group photo with MILAD at the "shouting place"