Special Crossing for Students
October 30, 2013 – Another special student crossing was conducted yesterday to allow students to cross from B-side to A-side and vice versa. Two students from the B-side were first assisted across to the A-side before the larger crowd of 18 students from the A-side was assisted to cross to the B-side. The last student crossing was conducted on August.
Some family members of students who are currently studying on the B-side also used the crossing as an opportunity to send their loved ones more of their personal belongings. All students and luggage went through the standard border procedures before and after they crossed on both sides.
A student who missed out on the August crossing had to miss classes for two months as he had to wait for this special student crossing. "Classes started two months ago, so as soon as I get to campus I have to sit exams" he said. "I have done my own studies from home and hope I can do well in the exams'" he added.
Another student spoke of how fast it used to take to cross before the crisis began. "We used to complete crossing procedures within one hour, now we are lucky if we are finished within six to seven hours," he said.
While the International Committee of the Red Cross (ICRC) was the main coordinator of the crossing, UNDOF personnel from the Liaison Protocol branch, LOGBATT transport section, Military Police, PHILBATT medical team, Liaison Officers from both sides and OGG personnel were on the ground to assist in the smooth crossing of students across the border.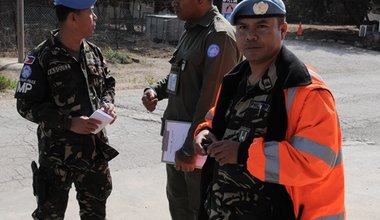 Deputy Chief Liaison Protocol Officer, Major Viliame Draunibaka briefs
Military Police