UNDOF celebrates forty years of peacekeeping in Golan
May 26, 2014 - For the first time UNDOF will ensure that maximum number of its staff are included in its anniversary celebrations. The 40th anniversary of UNDOF will be celebrated in ROD on May 22; in Camp Faouar on May 30; and in Camp Ziouani on June 09. The presence of members of the Diplomatic Communities, Representatives of International bodies, and Representatives of Syria's Ministry of Defence and Ministry of Foreign Affairs added weight to the celebrations which was held at ROD.
In his address, the Head of Mission and Force Commander, LtGen Iqbal Singh Singha thanked the troop contributing countries for the contribution of troops to the mission. He also acknowledged the Diplomatic Communities present for showing confidence in UNDOF. He thanked them for their assistance in moving UNDOF forward and continuing with its mandate. He ended his speech with a two minutes silence in honor of the fifty four fallen UNDOF peacekeepers.
MajGen Michael Finn the COS UNTSO reiterated his support for UNDOF saying that UNTSO and UNDOF were security creating mechanisms for the fulfillment of a just and lasting peace in the Middle East. He said that OGG would always remain by Force Commanders side as long as it takes and was equally proud of UNDOF's support towards OGG. He also praised the Force Commander for his leadership saying that, "Your leadership found the ways and brought the means to enhance the protection and capabilities of our peacekeepers. We continue to measure success in the region by the prevention of conflict between states." He also mentioned that UNTSO could not do it without the cooperation of host nations authority; both civilian and military.
A representative from the one of the TCC's, the Charge d'Affair of India's High Commission, Mr S.D Sharma praised LtGen Singha for successfully managing the Mission although UNDOF's operation was disrupted by the conflict in the past year.
The designated officer, Syria; Mr Yacoub El Hillo offered his congratulations to UNDOF not for the length of its existence but for the quality and delivery of what it did. "For trying to preserve calm and quiet and trying to avoid at all costs and by all means possible resolve to violence," he said. "From that we draw strength and hope that in the years to come would see quiet returning," he added. He said that Syria was going through an exceptional circumstance but that it would pass and it is the collective responsibility of all UN organizations to work together for the restoration of calm and return of normalcy.
Under the Security Council resolution 350 (1974) of 31 May 1974, the United Nations Disengagement Observer Force (UNDOF) was established to; maintain the Ceasefire between Israel and Syria; supervise the disengagement of Israeli and Syrian Forces; and to supervise the areas of separation (AOS) and areas of limitation (AOL), as provided in the May 1974 Agreement on Disengagement.
Force Commander, LtGen Iqbal S. Singha with distinguished guests during the ROD celebrations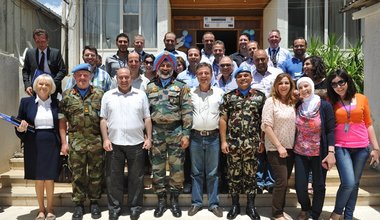 FC with staff of ROD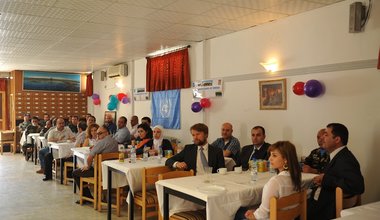 Staff of ROD await lunch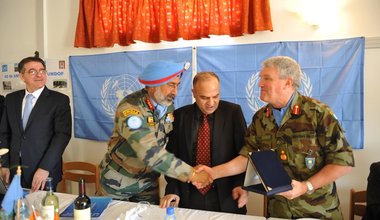 FC presents token of appreciation to COS UNTSO Maj Gen Michael Finn